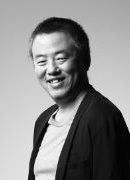 韩家英
Han Jiaying
| | | | |
| --- | --- | --- | --- |
| 职务: | 学术委员 | 邮箱: | han@hanjiaying.com |
| 年份: | 1995年入会 | 电话: | +86-755-8355 1760 |
| 公司: | 韩家英设计有限公司 | 网址: | www.hanjiaying.com |
| 职位: | 创办人 | 地址: | 深圳福田区深南大道2008号中国凤凰大厦 |
1961年出生于天津
韩家英设计公司创办人
AGI、D&AD、ADC会员
中央美术学院城市设计学院客座教授
2012年首届中国设计大展平面策展人
2014第一届深港设计双年展创意总监

曾多次获得平面设计在中国展金奖、香港设计展金奖、日本富山国际海报三年展铜奖、莫斯科国际平面设计双年展金蜂大奖等。近年来,分别于2009、2012年两次荣获亚洲最具影响力设计大奖金奖,GDC11"探索与试验"最佳奖和提名奖。并于 2012、2013、2014 年分别在深圳华美术馆、北京中央美术学院美术馆、上海洛克外滩源中实大楼举办"镜像韩家英设计展"。

Born in 1961 in Tianjin
Founder of HAN JIAYING DESIGN & ASSOCIATES
Art Directors Club (ADC) member
Designers and Art Directors Association (D&AD) member
Alliance Graphique Internationale (AGI) member
Visiting professor for City Design College of Central Academy of Fine Arts
Graphic planner of the first China Design Exhibition 2012
The creative director of the 1st HK-SZ Design Biennale

Han Jiaying has won many awards, such as Gold Award for Graphic Design in China, Gold Award in Hong Kong Design Exhibition,Bronze Medal for International Poster Triennial in Toyama, Japan. Honorary Award for Golden Bee Award for Moscow International Biennale of Graphic Design. Recently, he has been named as one of the Most Influential Designers in 2009 and received the"Exploration Award"and"Nomination Award"at GDC 2011. The Reflection Han Jiaying design was held in Shenzhen OCT Art & Design Gallery in 2012 and in China Central Academy of Fine Arts Art Museum in 2013 respectively.